It Takes a Village to Provide Shoes for Over 2,300 Children Each Year.
Christmas Shoes Ministry's village of volunteers are special people who have a passion for children in need AND a real belief that God is able to accomplish anything. No one on our board or team of volunteers is paid. We can always use more helping hands all year long.
Our biggest need for help is now during the Christmas season when we provide new shoes for the majority of our children in the Upstate and beyond. It's our crunch time…as all deliveries must take place before school lets out for the holidays.
We are always in need of volunteers from November through December and certain months throughout the year. We welcome middle schoolers/teenager who need service hours or just want to serve to help us put together our Christmas Shoe boxes etc.
We always need ladies who love to shoe shop.  And for church groups, clubs, businesses, individuals and families wanting to serve, we need helpers checking in shoe etc. Reach out to us for dates and times we have available or to learn more.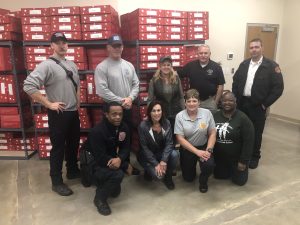 A special shout out to the Boiling Springs Fire Department for being such a huge help and supporter. From loading up giant trucks and making deliveries inside the schools with us…to conducting a 2-day street blitz and raising thousands of dollars…to getting colleagues in other Fire Departments to help us out in their districts…you guys truly are our heroes!
To learn more about volunteer opportunities, contact:
Cheryl Carpenter 864-982-7649
Tonja Faulkenberry  864-608-1612
Email Us