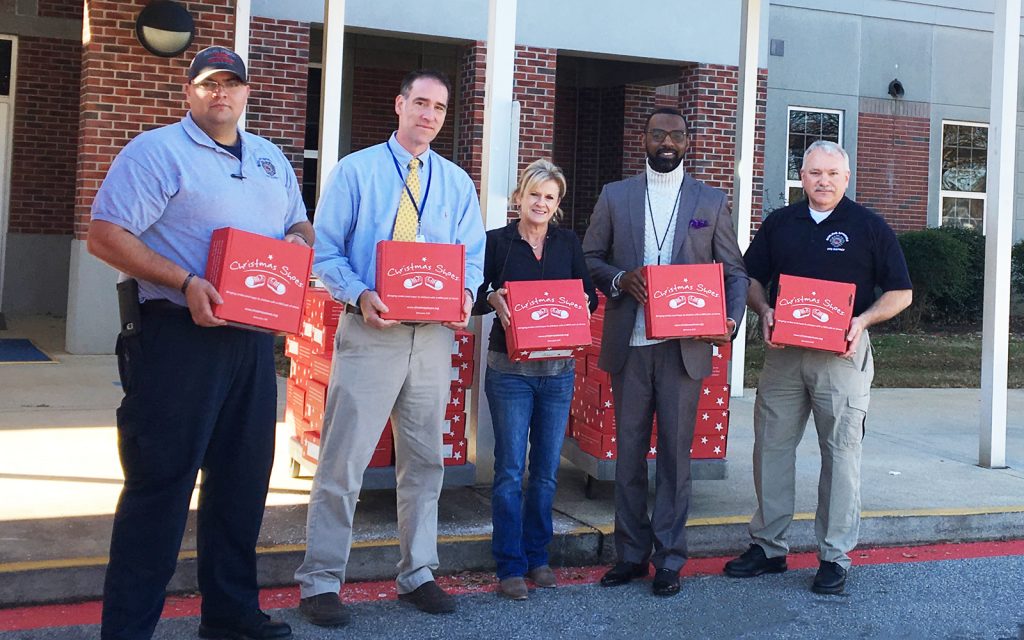 As a Title I school, Monaview Elementary appreciates the generous support of Christmas Shoes Ministry.
Five years ago, our school was contacted by Christmas Shoes Ministry about providing new sneakers for all Monaview students, for free. When I first heard this, I couldn't believe that someone could or would donate nearly 500 pairs of new shoes.
Not only was it true, but Christmas Shoes Ministry has continued its support every year since then. Seeing all the shoes boxes stacked and ready to go is a sight not to be forgotten. Every year on delivery day, the shoes all come in beautiful Christmas boxes with the information listed so it's easy to quickly and correctly distribute them to students.
The students' excitement as they receive their shoes continues when they show up wearing them the next morning. All day, my phone rings nearly nonstop with "thank yous" from grateful parents.
The Christmas Shoes program has become one of the highlights for Monaview students each year. We are extremely appreciative of what Christmas Shoes Ministry does for our students and feel fortunate to have benefited for so many years."
Ken Brooks
Title I Social Worker
Monaview Elementary
---

How can A Child's Haven best sing the praises of the wonderful volunteers of Christmas Shoes? I could only say that if you could look into the eyes of one of the many children served by our organization; words need not be spoken when they are given their new shoes. Cheryl Carpenter and her team of volunteers bring such joy to over 150 plus children who are served by A Child's Haven. Not only do they provide a new pair of shoes for the child who is being served in our facility, they also provide for the siblings of the home as well. The shoes are just the beginning, as they also provide socks with a new toothbrush and toothpaste. The parents of these children are overjoyed by the generosity of this wonderful organization. Our relationship with this non-profit group began well over ten years ago and we cherish all they continue to do for those we serve."
Rebekah Muhilly
A Child's Haven
---

Christmas Shoes has been a blessing to so many children in the Greenville County School District, homeless program. When the children receive the red boxes with the shoes; their eyes light up. They are so excited to have a brand new pair of name brand shoes to call their own. They eagerly open the boxes to put on the new pair of socks and shoes. For many of our children, this may be the only pair of new shoes they receive for the year. And because it is so close to Christmas when they receive it, it is like getting a Christmas present. It may not be a big deal to you, but for many of our families, Christmas can be a challenging time as families are trying to manage their finances just to have shelter.
On behalf of the many students and families who have limited resources, I say thank you, thank you, thank you. It is these acts of kindness that put a smile on a child's face to help strengthen their self-esteem and their self-worth. I pray God will continue to bless you and the Christmas shoes organization."
Irene Hamilton
Greenville County Homeless Educational Liaison
---

We are so grateful for Christmas Shoes! Many of the students in our community have benefitted from the generosity of the folks who have partnered with Cheryl and her team. These gifts fill a tremendous need that many students would otherwise go without. We firmly believe that our students' basic needs must be met and appreciate the opportunity to give shoes to our students on your behalf. Thank you!"
Amy Turner
Pickens County Homeless Educational Liaison
---

I can't thank you enough for the generosity of Christmas Shoes in providing sneakers to all our children at Christmastime. It means so much.
The kids were thrilled, absolutely thrilled and joy filled the atmosphere as they opened their boxes. One child closed the box to give them back because he couldn't believe someone would give him something so nice and several children danced with joy, wearing their new shoes.
Know that your service and kindness make a difference both here and in eternity."
Lieutenant Barbara Pressley
Greenville County Juvenile Detention Center
---

The School Social Workers within the Pregnant and Parenting program would like to extend a huge thank you for your generous gift of blessing our graduating seniors and their children with new pair of shoes as they take their next steps after high school graduation.
Many of our parenting students struggle to juggle parenting, holding a job, and staying in school. The funds that our students have often go to maintaining their household needs and child's needs. Their own needs often fall on deaf ears. The last two years, you have blessed our students and their children with a brand new pair of shoes. I always look forward to seeing the student's expression of overwhelming appreciation. In addition, many of our students pass on their siblings' shoes to their children. It is an honor to be able to gift both parent and child with a new pair of shoes.
The Bible speaks of the role of the shoe. The shoe serves as a transfer of property and dignity. Graduating from high school for many of our students is rites of passage. A ceremony that many of our students' parents were not able to achieve. High school graduation is a commencement, in which they are beginning a new life and able to take those first steps with dignity.
I personally thank you for making sure that our students are recognized for their resilience and determination in persevering to complete their high school education despite difficult obstacles."
Sincerely,
Tiffany Whitney, LMSW, MPH
School Social Worker
---

Thank you, again, so much for this year's generous donation of shoes and socks for our Head Start children at our Estes, Glen Arden, Fairview, Bell and Haw Creek classrooms. We appreciate the hard work of your volunteers and commitment of your donors.
Without your help, many of our children would have only used ill-fitting shoes to get through
the school year. Now they have new shoes that fit and look great!
Thanks again, for choosing to help our Head Start children."
Vicki Heidinger
Executive Director
Community Action Opportunities
Marcia Bacoate
Lead Family Service Associate
Community Action Opportunities